Bosch GWS 2200-180 Professional Angle Grinder
Superior grinding/cutting performance due to powerful 2200 W motor
Long life time under tough working environment and heavy working load due to robust design and parts
Additional safety due to the Deadman switch
Reliable quality, as per Bosch standards
Description
Bosch GWS 2200-180 Professional Angle Grinder Price and Specs in Kenya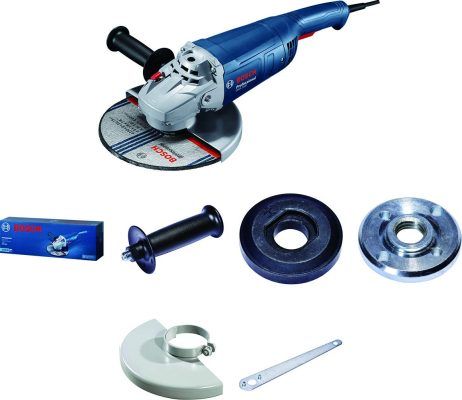 Bosch GWS 2200-180 Professional Angle Grinder Description
Bosch GWS 2200-180 Professional Angle Grinder:
New Bosch patented motor with the best in segment overload capacity. Bosch GWS 2200 Angle Grinder is ideal to use for large cutting and grinding jobs. "BeConnected Enabled"

Work faster, even when overloaded, High material removal rate, Low breakdown, Longer carbon brush lifetime, Low user fatigue.

Rated input power: 2,200 W; No-load speed: 8,500 rpm; Disc diameter: 180 mm; Grinding spindle thread: M 14; Grinding head, diameter: 140 mm, Weight: 5.2Kg

Package Contents – GWS 2200-180 (Order / Part Number: 06018C00F0) with Two-hole spanner, Backing flange, Locking nut, Cardboard box, Protective cover, Auxiliary handle

Warranty – 6 Months from the date of invoice (provide invoice copy to claim warranty)
Specifications
Additional data

Rated input power
2,200 W
No-load speed
8,500 – 8,500 rpm
Disc diameter
180 mm
Grinding spindle thread
M14
Main handle
Barrel
Weight
5 kg
Buy Bosch Professional Angle Grinders from Rapidtech Digital Solutions with fast delivery across the country and in-store pickup in Nairobi. We also offer free deliveries within CBD for selected items.
You can also check:
Bosch GWS 750-115 Professional Angle Grinder
Bosch GWS 24-230 Professional Angle Grinder
Brand
Brand
Bosch
Bosch dealer in Nairobi, Kenya
We are a long-standing Bosch dealer in Nairobi, Kenya. We stock a wide range of Bosch products, including power tools, power tool accessories, and measuring technology. Hammer drills, cordless screwdrivers, and jigsaws are also among the Bosch power tools we stock. We also sell Bosch gardening tools like lawnmowers, hedge trimmers, and high-pressure cleaners.Besides, we also sell Bosch consumer goods such as washing machines, tumble dryers, refrigerators, freezers, stoves, ovens, and dishwashers, as well as small appliances such as vacuum cleaners, coffee makers, and food processors.
Rapidtech Digital Solutions
Bosch shop offers the best Bosch prices on power tools and consumables in Kenya, with same-day shipping in Nairobi and 24-hour shipping for other regions.
Related products